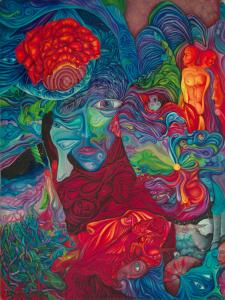 my latest painting, "Body Image For Sale" is about the absolutely impossible standards the marketing industry implies we should all strive to look like. I was sold. I had a great little body at 48 years of age. Weighing in a 106 lbs, i thought I looked great. Like a teenager. I could get away with bikinis and midriff tops, skinny jeans, all the latest fashions. I could wear Victoria secret feeling confident I looked great.

When actually I was underweight and well, no feminine curves. I was sold hard core until I gained 1/4 of myself due to a change in medication and perhaps turning 49. The extra 30 lbs gave me quite a fit at first. Bringing back memories of highschool when i just knew I was 'fat'. Being teased and called 'bertha butt' while going into class by my brother's friends (all seniors, I was a sophomore) confirmed the worse, I had curves!

Memories of not loosing the weight after my second child at age 27 also continued to haunt me, even though I actually finally looked healthy. I was quite a bit underweight for my size and build. But even my face had changed, and I no longer felt as pretty. I was an addict.

So, like with all my issues, I took it up with the canvas and brush. I decided to paint my demons out. It took six long months of long days, usually in bed propped up, but finally I declared if complete at the beginning of the Kerrville Folk Festival where I had a booth last May-June.

The painting is designed to be hung all four directions and still give you a complete painting altogether new yet familiar. One way is the seductive boobed babe with no hips, but much chaos coming from her womanly region. This chaos seems to capture the eyeline of the man who's head is a heart which belongs to the lady you see when you turn the painting upside down. Now we have the typical average aging body. For as we age, we tend to loose those sexual characteristics that made us all swoon (and still swoon) at those younger bodies. It is life. The cycle of it.

Oh, but the pressure to buy into the youth culture.

Yet here, we find more pattern than chaos, as if all that mess has been sorted out by age, wisdom and lessons learned. It has woven a tapestry that she wears proudly because the value of the peace of mind she has found with age goes fare beyond having to live through youth again.

Who am I to talk. At 49, I certainly don't look my age. I have great genes inherited from both sides of my family. But I'm not carded anymore, and my hands, behind artists hands, look every day of the 49 + years I've been here.

I refuse to deny my years either, as that would be denying my life. I would have to dissect away this year and that year, no. I'm lucky, I know, but really. In the end, when finished I saw the peace flowing out of the aging woman. This quality I find very intriguing and powerful. Much more so than the quick high of a stacked chest. Not that, if given the chance, I wouldn't ..see I'm still sold on it... it's a hard fix to give up.

This is what my son noticed.

As it was placed in the booth with a selected few of my paintings, he noticed that this painting was mostly blues, hues of blues. and softness of green. They almost seem to be encapsulating the red, which in the other paintings is such an angry red. He noticed that I seemed to be trying to contain my pain.

How amazing. this is the first painting that I used consciously as pain management. Distraction therapy. Apparently I kept painting this to cover more of the original reds and yellows into pale greens and blues. Calming my nerves subconsciously.

I hope you enjoy and get lost in this painting and when time comes, hope that you might feel the need to have a print in your home so that you can turn it anyway you wish with ease to see all the stories and create your own interpretations thereof.

Thank you for reading
Karen
Musickscapes
the landscapes of my mind!